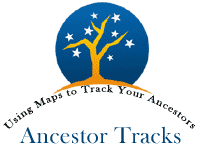 Unfortunately, no atlases or wall maps showing land owners for Cameron Co. are apparently in the Library of Congress, so we are unable to bring you those maps. However, the Pennsylvania Archives has posted images of the 1870 Map of Cameron County, Pennsylvania from the Original and Recent Surveys by Edward Vosburg. Click on each of the four sections to enlarge them. Notice that these tracts correlate with the Warrantee Maps below which show details for the very first person to own that land (links to these are below). Thus, you can see the original owner of a particular tract and compare that with the owner on the 1870 map. Here is an example: If you click on the lower right panel of the four panels posted by the Archives and then enlarge it, you will see tract 5716 just to the left of the "C" in the "Cameron County" title. It is identified as "C.W. Md." Now if you click on the Warrantee Map for Grove Township below and enlarge that map, you will see that tract 5716, containing 990 acres and allowance, was warranted to Casper Wister, Jr., on 31 Dec 1794. Wistar also had it surveyed 13 Feb 1795 and patented 21 Mar 1795; the patent is recorded in Patent Register P24, pg. 275. The 1870 owner is not shown on the Vosburg map but many of the other tracts do show a current owner.
The Cameron County Genealogy Project has also posted images from the 1870 map located in the Court House which show a few landowners.Be sure to check out the Cameron County Genealogy Project which is in the process of transcribing the relevant portion of History of the Counties of McKean, Elk, Cameron, and Potter, Pennsylvania published in 1890.
---
Cameron County Warrantee Maps
The following Township Warrantee Maps have been posted by the Pennsylvania Archives in Harrisburg. These are large files and will take some time to load, so patience is required. Depending on your internet connection, your screen may appear to be blank while the pdf file is downloaded.