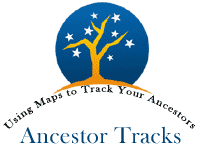 Fulton County
The state of Pennsylvania began platting the exact metes-and-bounds tracts of the earliest landowners, township-by-township, starting in 1907, but the Land Office only completed about 1/3 of the state before the project ended. Unfortunately, only part of Fulton County was mapped before the state project ended. Bill Turner, who has put an unparalleled amount of work into Fulton County genealogy, has produced a series of binders for each township called "Original Warrants, Patents & Drafts filed at Fulton County Courthouse" documenting the original documents filed at the Fulton Co. Courthouse in McConnellsburg. Contact the Fulton County Historical Society Library at P.O. Box 115, McConnellsburg, Pennsylvania 17233 (Email: director@fultonhistory.org) for a search of these binders.
If you have 19th-century ancestors who lived in Fulton Co., see the 1916 Atlas of Fulton County, Pennsylvania compiled and published by Frank P. Plessinger, County Surveyor, Locust Grove, PA. and Francis M. Taylor, C.E., McConnellsburg, PA., 1916, which has been posted online at the USGenWeb Digital Map Library.
If your ancestor was actually a first landowner in the county, purchasing his or her property from the colony or state of Pennsylvania, details regarding these tracts will probably be found in the Warrant Register and Patent Register on file at the Pennsylvania Archives in Harrisburg and available on CD from Ancestor Tracks.
Finally, we have obtained a poor quality map from the Fulton County Historical Society showing the warrantees of Union Twp., most of Brush Creek Twp., and part of Bethel Township. This is a very large map (about 3' X 6') and will take time to download. You will find the Survey Book and page number on most tracts (usually starting with "C")--these surveys have been posted online by the Pennsylvania Archives in Harrisburg.

Note: It appears that Dublin and Todd Townships were the only townships for which Commonwealth of Pennsylvania draftsmen connected the surveys and patents and created a complete Township Warrantee Map, and these warrantee maps have been posted online (see links below; paper copies are available from the Archives at the specified price). If any researcher knows of additional land resources, please contact customer_service@ancestortracks.com.


Fulton Co. Township Warrantee Maps
Township
Click here to return to the Ancestor Tracks home page.
Click here to go to the Ancestor Tracks order form.
Click here to go to the Ancestor Tracks product page.