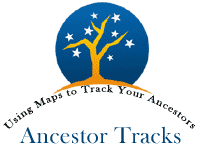 Huntingdon County Resources
Our goal at Ancestor Tracks is to publish maps and land ownership information allowing researchers to place more precisely the locations where our ancestors lived. The state of Pennsylvania began platting the exact metes-and-bounds tracts of the earliest landowners, township-by-township, starting in 1907, but the Land Office only completed about 1/3 of the state before the project ended. Unfortunately, only one township (Springfield) was platted before the project ended--see below for a link to this Warrantee Map. If your ancestor was actually a first landowner in the county, purchasing his or her property from the colony or state of Pennsylvania, details regarding these tracts will probably be found in the Warrant Register and Patent Register on file at the Pennsylvania Archives in Harrisburg and available on CD from Ancestor Tracks. The last two columns in each Warrant Register states the Survey Book and page number in which the individual survey is copied, and these surveys have been posted online by the Pennsylvania Archives in Harrisburg. Remember that Huntingdon County was created in 1787 from Bedford Co. which was, in turn, created from Cumberland Co. in 1771. Therefore, if your ancestors lived in Huntingdon County before it was created in 1787, don't forget to consult the Bedford and Cumberland County Warrant Registers.
---
In lieu of being able to bring you Township Warrantee Maps of the earliest settlers, we are posting the Directory Map of Huntingdon County, Pennsylvania, from Recent Surveys by William Christy published in 1856. This map is located in the Library of Congress Geography and Map Division Washington, D.C. We hope that it will be a useful tool for locating your Huntingdon County families when coupled with the 1860 and other censuses.
---
Huntingdon County Landowner Map by Christy, 1856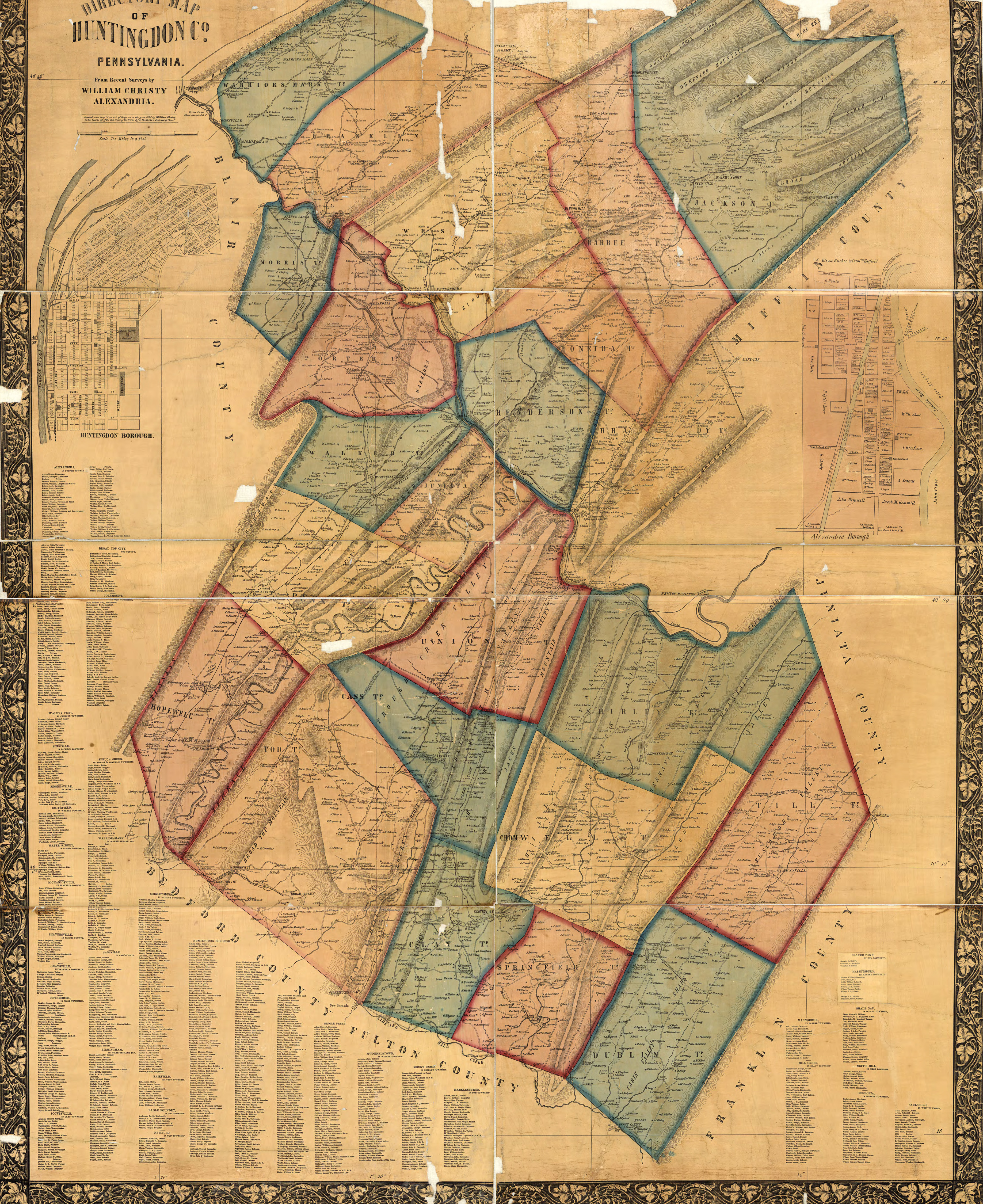 ---
---
Note: It appears that Springfield Township is the only township for which the Commonwealth of Pennsylvania draftsmen connected the surveys and patents and created a complete Township Warrantee Map. If any researcher knows of additional land resources, please contact customer_service@ancestortracks.com.

For researchers of later landowners, the 1873 Atlas of Blair and Huntingdon Counties Pennsylvania From actual Surveys by and under the direction of Beach Nichols, published by A. Pomeroy & Co., has been posted at the USGenWeb Archives.



Click here to return to the Ancestor Tracks home page.
Click here to go to the Ancestor Tracks order form.
Click here to go to the Ancestor Tracks product page.