Atlas of Township Warrantee Maps of Lancaster County, PA (609 pages)
and Companion CD containing Original Maps and Geo-Referenced Maps Locating Tracts on Modern Roads (.pdf files) (.pdf files)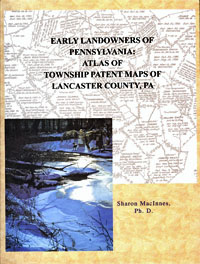 The newest volume of county atlases in the "Early Landowners of PA" series, this Lancaster County atlas contains all 41 of the Township Warrantee Maps which were produced by the Pennsylvania Land Office in the 1930s showing the location of the earliest landowners of the county. Each Township Warrantee Map was painstakingly platted by draftsmen from the original warrants, surveys, and patents. The maps show precise outlines in metes and bounds of each original tract and all surrounding tracts in the township, giving the names of the warrantee and patentee; dates of the warrant, survey, and patent; and the patent and survey books and page of the recorded patent. Atlas coordinates have been added to the maps so that you can find the tracts easily. Some of the draftsmen did not supply names of the warrantees and did not show them on the tract maps. Although we were unable to catch them all, we supplied hundreds of missing names of warrantees by consulting the copied surveys, the Lancaster County Warrant Register, and the relevant Patent Register any time one of two conditions was present: (1) there was a warrant to accept a previous survey; or (2) there was a large gap of time between the warrant and the patent, indicating that the land had probably changed hands.

Companion CD: The CD contains two sets of maps which are invaluable aids to this atlas: (1) uncropped images of the original Warrant Maps on file at the Pennsylvania Archives in Harrisburg, averaging about 3' X 4', in two formats (.jpg and .pdf); and (2) the original Warrant Maps onto which modern road maps have been superimposed by the Lancaster County GIS Division (.jpg format). Using the second set of maps, it should be possible to pinpoint the tracts of your ancestors and their allied families in today's county. You will be able to study them in context with the other families who had relationships with them. A sample of these maps showing the southern portion of Bart Township with modern roads follows:




---

As we have done for numerous Pennsylvania counties, we are also posting free, downloadable images from Bridgen's Atlas of Lancaster County, Pennsylvania From actual surveys by H. F. Bridgens published by D. S. Bare in 1864. This atlas should be an invaluable tool when used in conjunction with the 1860 and 1870 census to help pinpoint your ancestors. As always, once you click on an image and it is on your screen, it can be enlarged by clicking on the image, and it may be saved to your computer by right-clicking and selecting "Save Image As..."

---

Click here to go to the order form.
Click here to go to the product page.
Click here to return to the home page.