Index to James Wolfson's Warrantee Maps, plus 1875 Atlas of Lebanon County
(scroll to 1875 atlas below)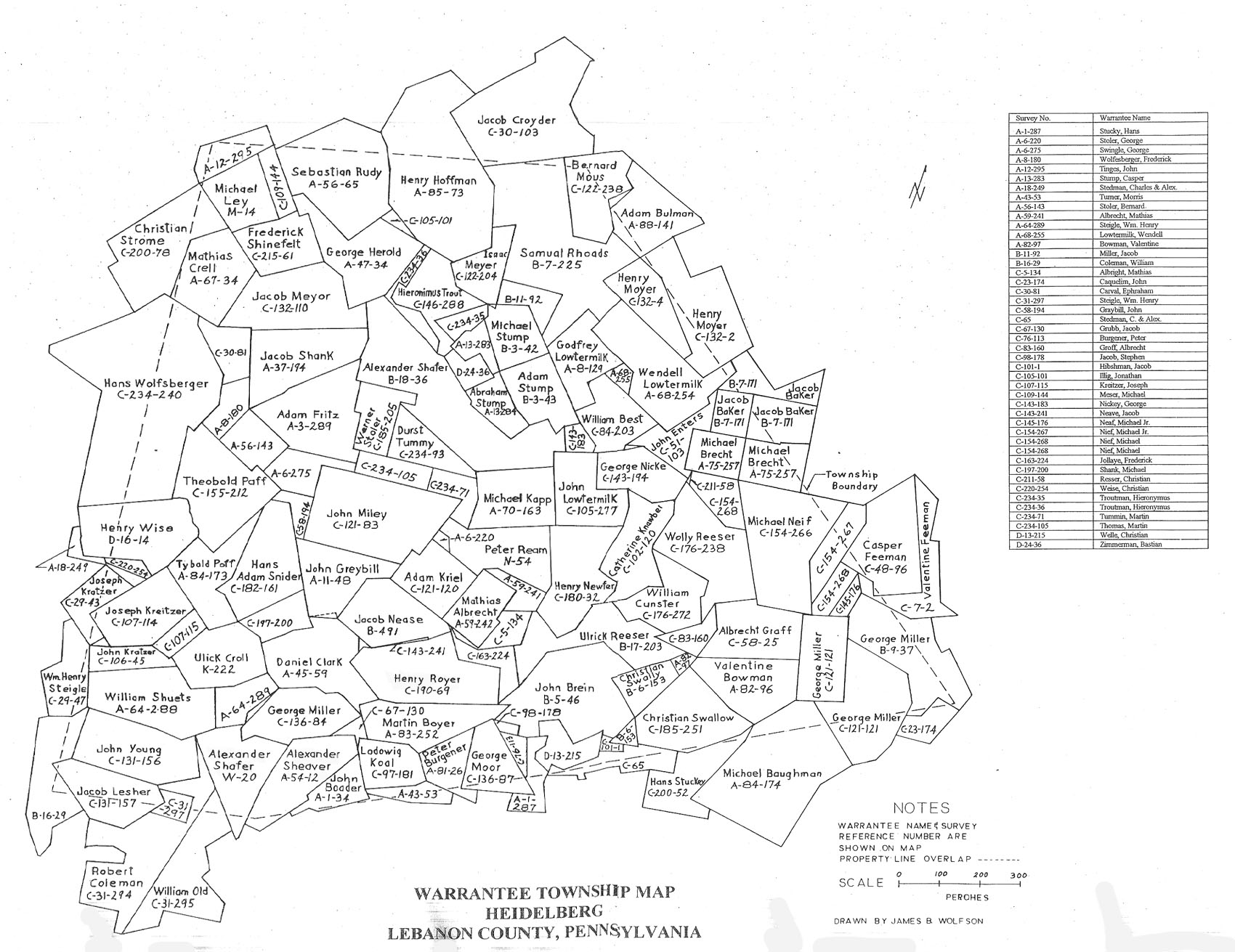 Our goal at Ancestor Tracks is to publish maps and land ownership information allowing genealogy researchers to pinpoint the locations where our ancestors lived. The state of Pennsylvania began platting the exact metes-and-bounds tracts of the earliest landowners, township-by-township, starting in 1907, but the Land Office only completed about 1/3 of the state before the project ended. Unfortunately, Pennsylvania did not plat the tracts of the earliest landowners of Northampton County. We are incredibly fortunate, however, that James B. Wolfson of Fresno, CA, spent a number of years documenting the warrantees and patentees of the townships of Lebanon County. He published his research in a series of excellent short booklets, one for each township, which the serious researcher of early landowners of the area simply must not ignore. Each of his booklets includes a map drawn by Mr. Wolfson showing the original tracts, as well as charts documenting the warrantee and patentee of each tract; the size and name of the tract; the warrant, survey and patent dates; and the survey book and page number where the surveys are recorded. The survey reference is particularly important since the Pennsylvania Archives in Harrisburg has posted them online. A copy of one of his maps is above--if you click on the image, you will be able to see how important his work is. The charts accompanying the maps, of course, include far more information.
Unfortunately, Mr. Wolfson's booklets are out of print and he has no plans at this time to republish them. Mr. Wolfson informs us that the Library of Congress has a complete set of his work. The Family History Library has 13 of his 16 booklets (lacking only Cornwall & West Cornwall, Jackson, and South Londonderry Townships), and you may request copies of a limited number of pages from them.
Other repositories which contain some or all of his work are the Pennsylvania Archives in Harrisburg (350 North St., Harrisburg, PA; email: ra-statearchives@state.pa.us); the Lebanon County Historical Society (924 Cumberland Street, Lebanon, PA 17042); and the Lancaster Mennonite Historical Society (2215 Millstream Road, Lancaster, PA 17602). For the missing townships, you may contact Ancestor Tracks.
We have compiled an index of the warrantees and patentees from all of Mr. Wolfson's 16 township booklets on file at the Library of Congress and are posting that index here as two .pdf files (one index by name, and the other one by township) so that you will know which booklet to order from one of the repositories. Be sure to open the "Bookmarks" tab for quicker searching. Also, be aware that a name may appear more than once on several pages and in both the warrantee and patentee column of a page, so be sure to search all pages of the relevant township:
Index of Lebanon County Warrantee Maps by Township
Index of Lebanon County Warrantee Maps by Name (alphabetical)
Mr. Wolfson used the Lebanon County Warrant Registers on file at the Pennsylvania Archives in Harrisburg (which we have published on a CD titled First Landowners of Pennsylvania: Colonial and State Warrant Registers in the PA Archives, Harrisburg 1682-ca 1940). Should you have the CD of "First Landowners," you will find the names in the County Warrantee Register as the county existed at the time of the purchase. Therefore, Lebanon County warrantees and patentees will be found in the following Warrant Registers on our (single) CD: Berks County, Bucks County, Dauphin County, Lancaster County, Lebanon County, Philadelphia County, Schuylkill County, and the "Old Rights Register." Also, here are two maps from Henry Egle's History of Lebanon County: an 1816 Map of Dauphin and Lebanon Counties and an 1883 Map of Dauphin and Lebanon Counties. Be sure to enlarge them by clicking on them.
---
We are posting below free, downloadable images of the County Atlas of Lebanon Pennsylvania from Recent and Actual Surveys Under the Superintendence of F. W. Beers published by F. A. Davis in 1875. This is an amazing atlas--if you look carefully, you will see some names in larger script than others on the township maps. The larger type denotes the owners of the original tracts. These maps, found in the Library of Congress, are in the public domain but the images posted below that we have taken of the atlas belong to us and are not to be used for commercial use. For those wishing to use them for personal use (including illustrating a family history you are working on), we give permission to use them, but we would appreciate attribution to Ancestor Tracks. It takes much time and effort to locate, process, and post these and the many other county images we have posted, so we expect and appreciate this courtesy. We hope that you will find this atlas a useful tool when coupled with the 1860, 1870 and 1880 census and published county histories. Click on the township of your choice and, once they have downloaded completely, click on them again to enlarge and clarify them. They are fairly large images so may require some time to fully load. They may be saved to your computer by right-clicking and selecting "Save Image As..."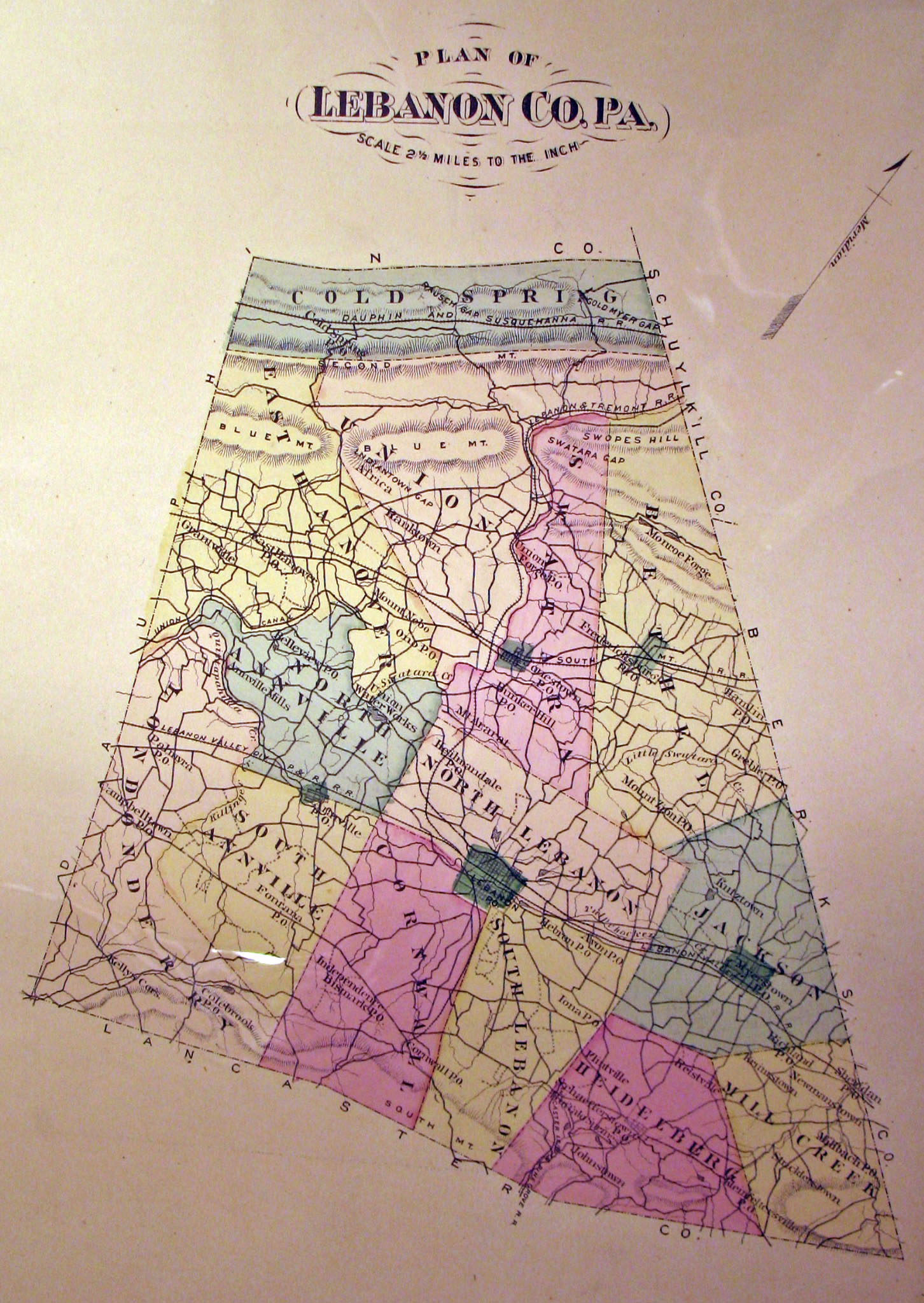 Click here to go to the Ancestor Tracks product page.
Click here to return to the Ancestor Tracks home page.