Unfortunately, state draftsmen working on the project to plat all of the earliest surveys on township maps never got around to mapping Philadelphia, Bucks, or Montgomery Counties. The reason may be that so many of the earliest surveys for the First Purchasers involved errors (two warrantees claiming the same piece of land, multiple overlapping claims, unpatented tracts, etc.) making it very difficult to place the original surveys onto modern township maps. In any case, the only way that we at Ancestor Tracks know to find the date, book and page of the original warrant, survey, and patent for your ancestor is to search through the Warrant Registers contained on our CD, First Landowners of PA: Colonial and State Warrant Registers in the PA Archives, Harrisburg, 1682-ca 1940. If you only have a few families to look up, the same warrant and patent registers are posted for free by the Pennsylvania Historical and Museum Commission, although they are harder to use. Once you have found the information, you can order copies of the original documents from the Pennsylvania State Archives in Harrisburg using their order form.
---
Other Philadelphia Resources for Early Landowners:
"Mapp of Ye Improved Part of Pennsylvania in America, Divided into Countyes, Townships and Lotts" by Thomas Holme is posted at the Lower Merion Historical Society. This amazing map, which can be enlarged, shows landowners, including a company of 17 families who were the first Welsh settlers in PA. Holme published his map ca 1687. The area covered is 2 miles long and one mile wide around Philadelphia. Several other early maps have also been posted on this site. Thanks, Lower Merion Historical Society!

The 1774 Philadelphia map showing first Philadelphia landowners by John Reed has been posted by the Library of Congress. And the University of Pennsylvania has posted much of the rest of Philadelphia County landowners as of Octoberr 1777 on their outstanding "Mapping West Philadelphia" site. You can turn on or off overlays showing the 1777 parcels, roads, rivers, and modern streets, and you can search by the property owner's name. This is a work-in-progress, so check back periodically for updates. Generally speaking, these are not the original landowners--but the "Year Acquired" gives the year in which the parcel was inherited or purchased by the owner. If the land was inherited, probate records can be accessed for the previous owner.

Bryn Mawr College has created an invaluable site containing a wealth of information for Philadelphia: City Directories for 1785, 1791, 1800; 1798 Federal Direct Tax for Philadelphia; 1838 census of African-American Philadelphia; 1810 and 1880 census records; panoramas, maps, texts, and paintings.
---
Montgomery Co. Resources:
The Lower Merion Library System has a wonderful historical atlas collection online, including the 1871 Hopkins Atlas of Montgomery Co. and the 1877 Scott Atlas of Montgomery Co., both of which show landowners.
---
New Jersey Resources: While researching in the Philadelphia area of Pennsylvania, remember to keep neighboring New Jersey in mind as many PA settlers had strong ties or relatives in New Jersey. An excellent source of maps is the New Jersey Genweb site.
---
To help identify the location of heads-of household in the 1850, 1860 and 1870 censuses, we have posted images from several maps on file at the Library of Congress: (1) "Maps of Bucks County, Pennsylvania, from Surveys" published in 1850 by W. E. Morris; (2) "Map of Bucks and Montgomery Counties and the Consolidated City of Philadelphia" published by Kuhn & Shrope in 1857; and "Barnes' Driving Map of Philadelphia and Surroundings," published in 1868 by R. L. Barnes. These maps of Philadelphia, Bucks, Montgomery, and Delaware Counties, PA, plus part of New Jersey, are located in the Geography and Map Reading Room of the Library of Congress. They document landowners in an area approximately 12 miles in diameter around Philadelphia. The images are very large and will take time to load, especially if you have a dial-up internet connection or older computer with a slower processor. Once they are loaded, they can be enlarged by clicking on them, and they may be saved to your computer by right-clicking and selecting "Save Image As..." We sincerely hope the images will help in your research.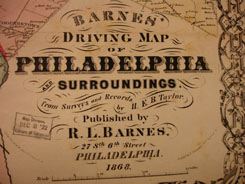 1868 "Barnes' Driving Map of Philadelphia and Surroundings
Click here to go to the order form.
Click here to go to the product page.
Click here to return to the home page.