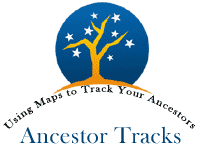 Landowner Maps and Resources for Tioga County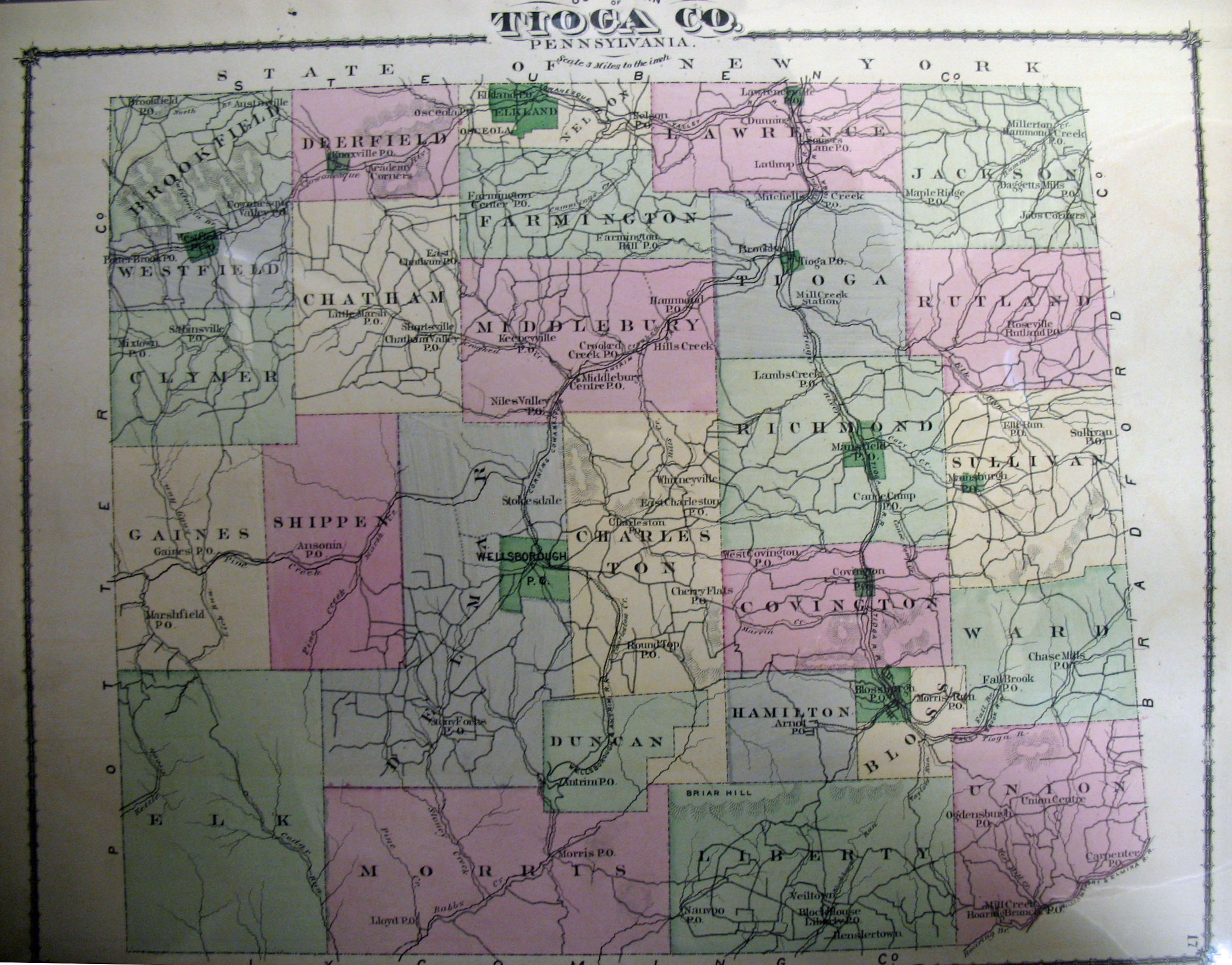 Our goal at Ancestor Tracks is to publish maps and land ownership information allowing researchers to pinpoint where our ancestors lived. In 1907, the state of Pennsylvania began platting the exact metes-and-bounds tracts of the earliest landowners, township-by-township. They only completed these Warrantee Maps for about 1/3 of the land mass of Pennsylvania, and Tioga County is one of the completed counties. The Pennsylvania Archives has been so kind as to post these images online (scroll below for links to these Tioga County Township Warrantee Maps).
In addition to links to the Warrantee Maps, we are posting free, downloadable images from the 1875 County Atlas of Tioga, Pennsylvania From recent and actual surveys and records under the superintendence of G. H. Walker and C. F. Jewett (New York: F. W. Beers and Company, 1875. We hope this landowner map will be useful when coupled with the 1860, 1870 and 1880 censuses and published county histories such as the 1883 History of Tioga County, Pennsylvania with Illustrations, Portraits & Sketches of Prominent Families and Individuals published by W. W. Munsell & Co. and the 1897 History of Tioga County, Pennsylvania by R. C. Brown & Co. (also available as a downloadable .pdf version).
Note that the links to both county histories will take you to Joyce Tice's stunningly comprehensive website Tri-Counties Genealogy & History which contains, as she writes, "17,000 pages of resource materials and tools for Tioga and Bradford Counties in PA and Chemung County in NY." Other publications in her "Tri-Counties Online Research Library" include military histories, township histories, historic newspapers, and a myriad of other resources. She has also posted an excellent chart showing the formation of townships with links to individual pages for each township containing extensive resources. DO NOT MISS HER WEBSITE if you are researching in Bradford County or Tioga County, PA (or Chemung County, NY)/
Please note that the 1875 atlas that we are posting below, on file in the Library of Congress, is in the public domain but the images we have taken belong to us and are not to be used for commercial use. For those wishing to use them for personal use (including illustrating a family history you are working on), we give permission to use them, but we would appreciate attribution to Ancestor Tracks. It takes much time and effort to locate, process, and post these and the many other county images we have posted, so we expect and appreciate this courtesy.
Click on the township of your choice and once they have downloaded completely, click on them again to enlarge and clarify them. They may be saved to your computer by right-clicking and selecting "Save Image As..."
---
As mentioned above, the Warrantee Maps for each township which were drafted by the Pennsylvania Land Office have been scanned and posted online by the Pennsylvania Archives. Paper copies of each map can be ordered from the Archives as well. Note that the tract numbers shown on the 1875 atlas correspond with the tract numbers on the Warrantee Maps below. Compare the atlas version of Elk Township posted above with the Warrantee Map of Elk Township below, for example, and you will see that Tract #2579 at the top of Elk Township is labeled "S.X.B" on the atlas. On the Township Warrantee Map below, it becomes clear that it was originally purchased (or warranted) on 12 Dec 1792 by land speculator Wilhem Willink, et. al., and contained 1002 acres and allowance (6% of the land, the "allowance," was officially set aside for governmental purposes such as for roads). Final title, or "Patent," was not transferred until 1874, over 80 years later, when Silas X. Billings patented it and his transaction was recorded in Patent Book H72, pg. 672 as shown on the Warrantee Map. The numbers on the tracts in both cases refer to numbers assigned to the tracts purchased under the 1784 "Last Purchase" and the sale warrants are recorded in the Last Purchase Warrant Register at the Pennsylvania Archives in Harrisburg. The warrants can be searched by scrolling through the pages under the first initial of the surname of the purchaser. Thus, Tract #2579 appears on pg. 48 (under "W") which verifies that it was granted on 12 Dec 1792 to "Willink, Wilhem and others" with an estimated size of 900 acres. The survey was returned for patenting to Silas X. Billings on 20 Apr 1874 with an actual size of 1002 acres. It confirms that the Patent was recorded in Patent Register H72, pg. 672 (since the patentee was Silas Billings, his patent was indexed under the letter "B" in the Patent Index Registers). The last column in the Last Purchase Register shows that the survey is recorded in Survey Book D7, pg. 127, which has been posted online with all other surveys by the Pennsylvania Archives. See the explanation of the Last Purchase of 1784 on our Elk County page and a map showing the Last Purchase counties in yellow).

Copies of the original warrant, survey (the one posted online is the version copied into Survey Books), and patent are available from the Archives.
Click here to return to the Ancestor Tracks home page.
Click here to go to the Ancestor Tracks order form.
Click here to go to the Ancestor Tracks product page.