A number of Township Warrantee Maps of Berks County were platted by the state from the original warrants and surveys in the 1950s. Unfortunately, the county was never completed, probably because of a lack of funding. Thus, only 23 townships, most of which are south of the Schuylkill River, were completed before the project stopped. The townships which were not mapped by state draftsmen were Amity, Colebrookdale, District, Douglass, Earl, Hereford, Lower Alsace, Maidencreek, Maxatawny, Oley, Ontelaunee, Perry, Pike, Rockland, and Washington. We have, however, found partial maps for Albany, Greenwich, Longswamp, Windsor, and Richmond (only 4 tracts for Richmond), as well as a completed rough draft map of Centre Twp.

We have been able to supplement the missing township maps with several different sources. Thus, we are publishing the following maps with permission: (1) Amity and Oley maps dated 1750 and 1775 are reprinted from Oley Valley Heritage: The Colonial Years, 1700-1775, a book by Philip E. Pendleton published by the Pennsylvania German Society; (2) Earl Township, which was labeled "Oley Township," was contained on a ca 1740 map found in both the Philadelphia City Archives in Philadelphia and the Schwenkfelder Library in Pottstown; (3) Maxatawny and Rockland, with part of District, was researched and drawn by Irvin **** and obtained from the Historical Society of Pennsylvania in Philadelphia; (4) Roscombmanor Township was originally drawn by Cadwalader W. Evans, Jr. as "Manor of Ruscombe" in 1789 and redrawn with modern roads by Leon F. Borst of Glenmoore, PA; and (5) a map of Fells Manor in Marion Township and Plumpton Manor in Heidelberg Township were drawn by Edgar Berge and published by the Tulpehocken Settlement Historical Society in Womelsdorf. Click on the image above to see a more detailed map showing the townships which are included on this CD (we have not found any early landowner maps for townships left white on the map). See the maps below for a rough idea of which townships of Berks County are included in the atlas. All map images shown in the atlas had to be reduced to fit the pages of the book, but the full-size images (some of which are up to 6 feet in width) are available on a companion CD.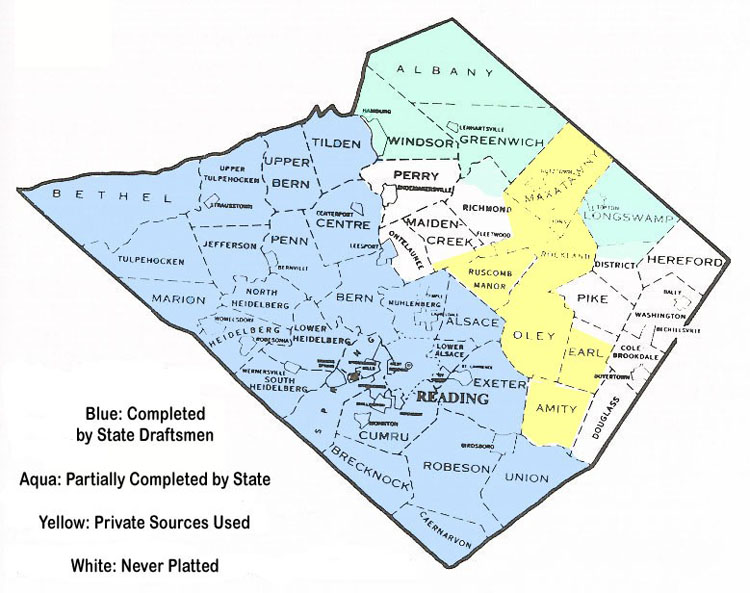 You can see a part of the detail here from a typical map, Bern Township.
Berks County Genealogical Society resources: For Articles regarding early residents and history of Berks County, see the Historical Society of Berks County site.
For maps (including a link to the 1876 atlas of Berks Co.) and other resources, check out the Berks Co. Genealogical Society.
1860 Map Images: As a companion for the 1860 census, we are posting below photographs of an 1860 map of Berks Co. located in the Library of Congress. This is the earliest landowner map for some areas of the county which we have found. The images are very large and will take time to load, especially if you have a dial-up internet connection or older computer with a slower processor. Once they are loaded, they can be enlarged by clicking on them, and they may be saved to your computer by right-clicking and selecting "Save Image As..."

Click on the name of the township to see the best image we can provide: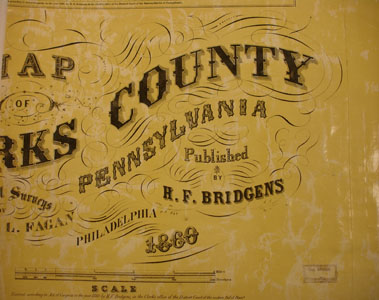 Click here to go to the order form.
Click here to go to the product page.
Click here to return to the home page.