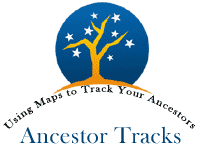 Delaware County Atlas of Warrantees:
Earliest Landowners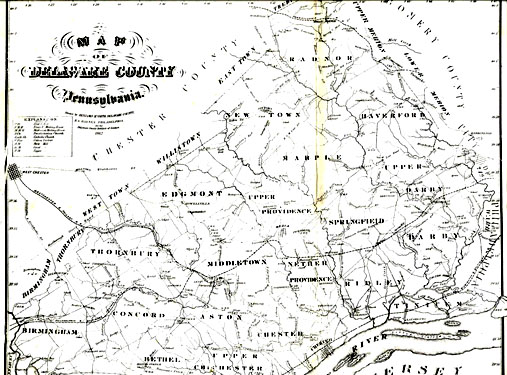 Although the state draftsmen working on the project to plat all of the earliest surveys on township maps never got around to mapping Delaware County, we are fortunate that Benjamin H. Smith took it upon himself to produce an atlas of the earliest patents in 1880. Many of these patents are dated before 1700. We are posting images of the copy of the atlas which is in the Library of Congress. While the physical maps are in the public domain, the images we have taken of the maps belong to us and are not to be used commercially. For those researchers wishing to use them for personal use (including illustrating a family history you are working on), we give permission to use them as long as they are attributed to Ancestor Tracks.
Further information about these tracts may be gleaned from the Original Purchases Register and the Old Rights Registers contained on our CD, First Landowners of PA: Colonial and State Warrant Registers in the PA Archives, Harrisburg, 1682-ca 1940.

ALSO, Delaware County PAGenWeb has some excellent maps of Delaware Co. And Keith Lockhart maintains a particularly rich website devoted to many Delaware County resources--be sure to explore his heading "Maps" in additional to the "Genealogical Resources." Nice job, Keith!
---
Once the images are loaded, they can be enlarged by clicking on them, and they may be saved to your computer by right-clicking and selecting "Save Image As..."
For researchers interested in later homeowners of Delaware County, homeowners are shown in an 1870 atlas and other maps posted at andysantiqueatlases.com. Unfortunately, the names of the atlases have been superimposed in large script over each image, but individual homeowners are usually clear. It appears that this website is under construction with much more to be added.

Click here to go to the order form.
Click here to go to the product page.
Click here to return to the home page.