Our goal at Ancestor Tracks is to provide land ownership maps which will help you pinpoint your Pennsylvania ancestors. Warrantee Atlas of Lawrence County, Pennsylvania, published in 1908, is located in the Library of Congress and may have been the first of its kind undertaken by the state to plat all of the earliest surveys on township maps. The maps in this atlas are particularly interesting: in many cases, this land was awarded to soldiers who fought in the Revolutionary War and the mere fact that a person received land in this county warrants further research in Revolutionary War records. For example, see the maps of Neshannock and North Beaver Townships below where the surveyor actually recorded the rank of the soldier, and, in some cases, the widow of the soldier. The names of the warrantee and, if he transferred it to a different patentee, that person's name is also shown (see the description of the Pennsylvania land acquisition process). NOTE: A very similar, but not identical, set of maps, has been published on Rootsweb's Lawrence County Pennsylvania Depreciation, Donation, Settlers Lands. Check both versions.
Lawrence Co. was created in 1849 from parts of Beaver and Mercer Counties. Beaver had been created in 1800 from Allegheny and Washington Counties; Mercer was created from Allegheny County in 1800. Thus, all of these counties should be checked for deeds and wills, etc. If your ancestor was actually a first landowner, purchasing his or her property from the colony or state of Pennsylvania, further information about these tracts may be gleaned from the Lawrence, Beaver, Mercer, Allegheny or Washington County Registers contained on our CD, First Landowners of PA: Colonial and State Warrant Registers in the PA Archives, Harrisburg, 1682-ca 1940.
---
Once the images are loaded, they can be enlarged by clicking on them, and they may be saved to your computer by right-clicking and selecting "Save Image As..."
Also see rootsweb for the township and borough maps of Lawrence County, Pennsylvania from the 1872 Atlas of the County of Lawrence and the State of Pennsylvania published by G.M. Hopkins & Co., Philadelphia, 1872.




We are also posting images from Map of Lawrence and Beaver Counties from Actual Surveys by N.S. Ames which was published in 1860 which can be used in conjunction with the 1860 census to help pinpoint your ancestors. As always, once you click on an image and it is on your screen, it can be enlarged by clicking on the image, and it may be saved to your computer by right-clicking and selecting "Save Image As..." You may freely use these images, but please attribute them to Ancestor Tracks.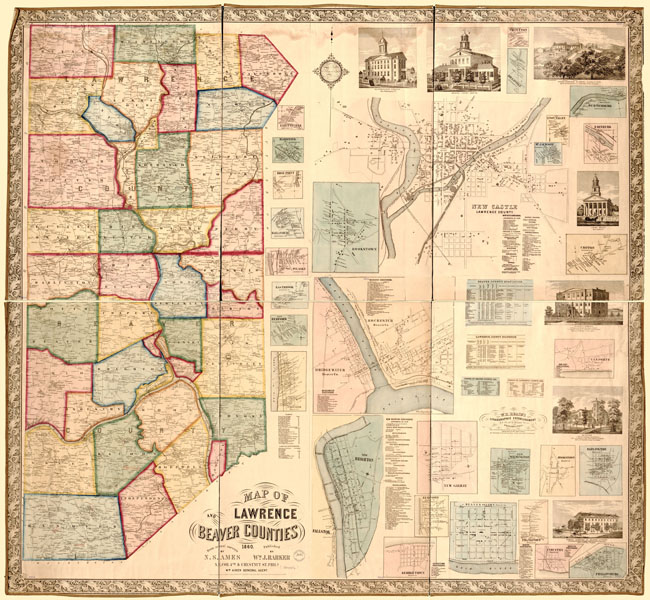 Click here to go to the Ancestor Tracks product page.
Click here to return to the Ancestor Tracks home page.