Unfortunately, the state of Pennsylvania did not plat the original warrantees and patentees on Union County township maps, other than for White Deer Township. However, there is a very large map hanging in the upstairs hallway of the Union County Courthouse which shows the first landowners. To aid Union County researchers, we are posting very indistinct images of that map (see bottom of page), as well as excellent downloadable images from two landowner sources: (1) Map of Union County, Pennsylvania, Entirely from Original Surveys" by Thomas Pashall and James Keily in 1856; and (1) Atlas of Union & Snyder Counties, Pennsylvania published by Pomeroy & Beers in 1868.
We hope that these landowner maps will be a useful tools for locating your Union County families when coupled with the 1850-1880 census. They should also be an indispensible aid when used in conjunction with John Blair Linn's Annals of Buffalo Valley, Pennsylvania which was published in 1877 and mentions many of the owners found in this 1868 atlas. Annals can be downloaded from GoogleBooks.
If your ancestor was actually a first landowner (warrantee or patentee), purchasing his or her property from the colony or state of Pennsylvania, his/her land acquisition should be documented at the state level, not at the county level. Union Co. was created in 1813 from Northumberland Co., while Northumberland was created in 1772 from portions of Cumberland, Northampton, Lancaster, Berks, and Bedford Counties. These dates are important, as the earliest land warrants were filed under the county as it existed at the time the warrant was issued. Thus, all of the relevant Indexes to Warrant Registers, published as First Landowners of PA: Colonial and State Warrant Registers in the PA Archives, Harrisburg, 1682-ca 1940 , as well as the Indexes to Patent Registers, should be searched to find the first landowners. Once you know the Survey Book and page number, be aware that the Pennsylvania Archives in Harrisburg, under the direction of Jonathan Stayer, has posted images of both the front and back side of every page of the Copied Survey Books online. Check both the front and back of the relevant survey. These surveys can be printed.
---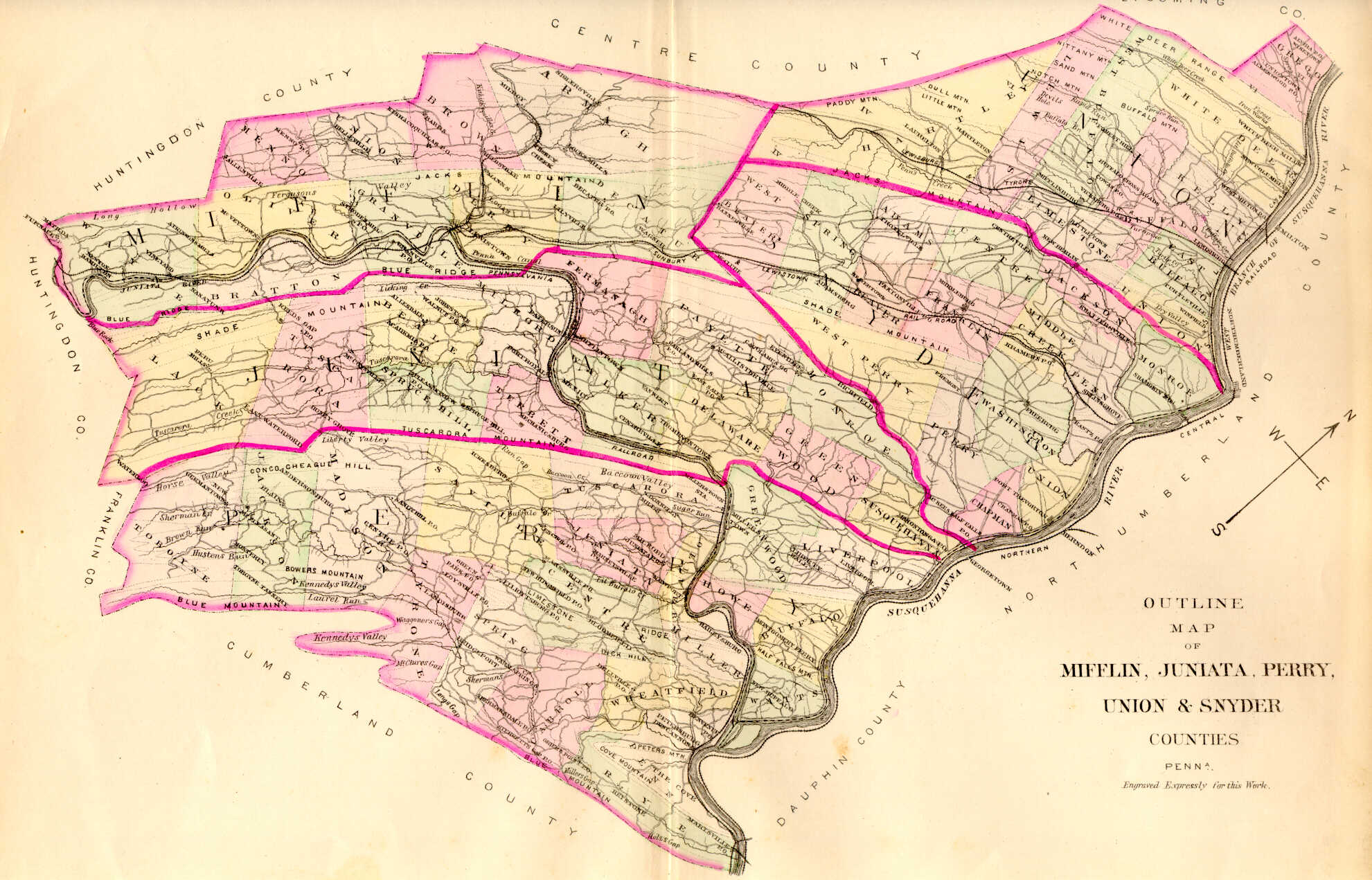 1886 Map of Townships of Mifflin, Juniata, Perry, Union & Snyder Counties from Everts, Peck & Richards
---
Images of the 1856 Map of Union Coounty and the 1868 Atlas of Union & Snyder Counties are below. Click on the township of your choice. Once the images are loaded, they can be enlarged by clicking on them, and they may be saved to your computer by right-clicking and selecting "Save Image As..."

---
The next series of images is my attempt to publicize the large, framed warrantee map which is posted on the wall in the Union County Court House. I took numerous photographs of the hanging map and tried to stitch them together, but the results are less than satisfactory. Nevertheless, I am posting these images with the hope that researchers will at least know that it is available and may be able to ask the Union Co. Historical Society (which is on the same floor in the courthouse) to take a picture of the desired portion of the map. I am posting seven "strips" of photos which overlap each other. They number from 1-7 showing the tracts from the top of the county to the bottom. Also, we are indebted to Eric Wagner of Mifflinburg who wrote the following clarification regarding the map. Many thanks, Eric!
"As for the large map, it is NOT a map of warrants or patents, but a connected draft of the RETURNED SURVEYS associated with those warrants and patents. Warrants are a type of land application that initiates title and afterwards these surveys are ordered and performed and returned by virtue of a plot or map of the land. And then a patent (which releases and clears title to the land) may be issued, but not always, as many warrants go unpatented--and MANY times patents are not granted to the warrantee/survey name associated with that tract of land. Therefore, these people may not have ever lived on, or even visited, these tracts of land with which their name is associated...."
It appears that White Deer is the only township for which Commonwealth of Pennsylvania draftsmen connected the surveys and patents and created a complete Township Warrantee Map. It can be ordered from the Pennsylvania State Archives
If any researcher knows of additional land resources, please contact customer_service@ancestortracks.com.
Click here to return to the Ancestor Tracks home page.
Click here to go to the Ancestor Tracks order form.
Click here to go to the Ancestor Tracks product page.