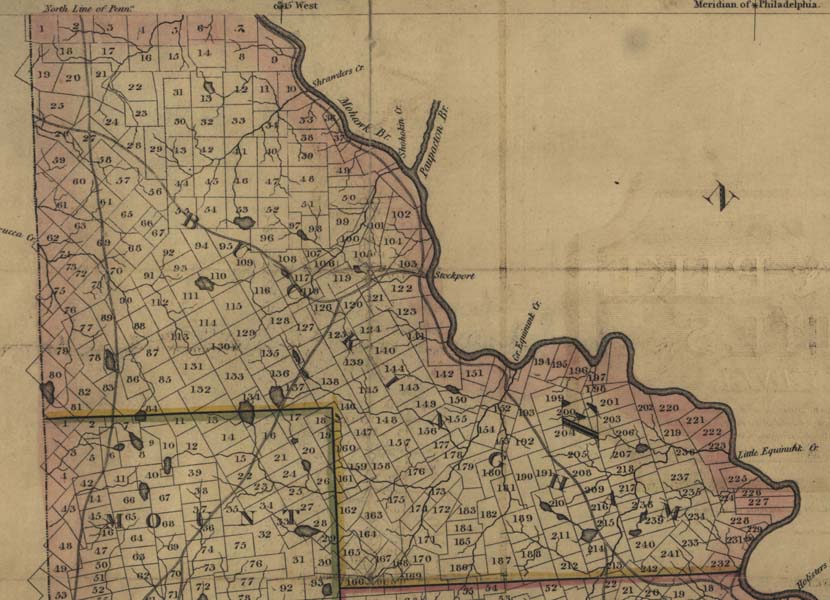 Wayne and Pike Counties by Jason Torrey, 1814 (CD)
(scroll below for free 1860 landowner maps of townships)
This CD contains the first landowner map of Wayne and Pike Townships. It was drawn in 1814 by Jason Torrey, surveyor of Wayne and Pike Counties. The map on this CD is not a map drawn by someone divorced from the roots the settlers put down. He was one of the first settlers in the county and met the pioneers himself, often taking meals with them; he climbed over hills and cleared trails through the woods in order to set out his compass and chain; he endured rain and sleet, mosquitoes and frost, and he knew the land and its owners more intimately than any other person living in his day. He traveled constantly to the Land Office in Philadelphia, was personally involved in the disputes of overlapping tracts, recorded the surveys in Philadelphia, and represented larger landowners in their land transactions.
In addition to drafting his map, Jason Torrey created an index of the landowners, a transcription of which is on this CD. His index, however, only contains the name of the land holder, the size of the tract, and the number of the tract within each township. For that reason, we have included the Warrant Register for Northampton County (the parent of both counties), in which nearly all of the transfers of land from the colony or state to the original landowners within the two counties were recorded before 1798. We have also included the Warrant Register for Wayne County, in which the state recorded transfers of all land located in both counties when Wayne (which then contained Pike) was created in 1798; as well as the Warrant Register for Pike County, in which all land transfers located specifically in Pike Co. were recorded starting in 1814. The following files are contained on the Wayne and Pike Counties CD:
(1) "Index to Wayne & Pike Township Maps by Jason Torrey, by Townships" in Adobe Acrobat (.pdf) format. This is the main file on the CD. Each township chapter in this file is bookmarked and begins with the map for the township, followed by two indexes: (a) a numerical index showing each tract in the township numerically starting with "1"; and (b) an alphabetical index of tract owners. The numerical index can be consulted to see who was living next to whom. For example, if a researcher wants to know the neighbors of Moses Coolbaugh of Buckingham Township (see below) who owned tract #47, the researcher can easily locate the surrounding owners by their tract numbers (#39, 40, 41, 46, 48, 51, 52, and 53).
(2) The map of the entire Wayne and Pike area in both .tif and .jpg formats.
(3) Individual maps for each township in .jpg format. These are smaller files and should open much more quickly. Smaller versions (which can be magnified) are also in the file "Index to Wayne & Pike Township Maps by Jason Torrey, by Townships." See below for an example of the Buckingham Township file.
(4) "Everyname Index, Wayne & Pike Co. Map" in .pdf format. This index is an alphabetical index of all tract owners located on the map as indexed by Jason Torrey.
(5) Warrant Registers of Northampton, Wayne and Pike Counties in .pdf format. These registers, or ledgers, are located in the Pennsylvania Archives in Harrisburg and give much more information about each of the tracts on the Jason Torrey map: the names of both the warrantee and patentee; the size of the tract; the exact date of the warrant and return of the survey; and the patent and survey books and page numbers where the documents were officially recorded. Ancestor Tracks has also produced a separate CD containing all 67 County Warrant Registers, as well as 3 files showing the original landowners dating from 1683.

PLEASE NOTE; The Land Office of Pennsylvania completed Township Warrantee Maps for all of the townships of Wayne and Pike Counties during the 20th century. These Township Warrantee Maps contain the information contained in the Northampton, Wayne and Pike County Warrantee Registers, as well as numerous additional tracts purchased after 1814 and some tracts omitted by Mr. Torrey. They may be ordered from the Pennsylvania Archives in Harrisburg by clicking here for Wayne County or Pike County.
---
Our goal at Ancestor Tracks is to publish maps and land ownership information for Pennsylvania allowing genealogy researchers to pinpoint the locations where our ancestors. The Topographical Map of Pike County From Recent and Actual Surveys and Records published by Beers in 1872 has been posted online by the Pennsylvania State Archives, and Ancestor Tracks is pleased to post a landowner map for Wayne County published in 1860. As we have done for numerous Pennsylvania counties (hover over each county on the PA map on our home page), we are posting completely free, downloadable township images of the 1860 Hopkins Map of Wayne Co., Pennsylvania, Drawn from Entirely New & Original Surveys. This map, found in the Library of Congress, is in the public domain but the images we have taken of the atlas posted below belong to us and are not to be used for commercial use. For those wishing to use them for personal use (including illustrating a family history you are working on), we give permission to use them, but we would appreciate attribution to Ancestor Tracks. It takes much time and effort to locate, process, and post these and the many other county images we have posted, so we expect and appreciate this courtesy. We hope that you will find this atlas a useful tool for when coupled with the 1850, 1860 and 1870 census and published county histories. Click on the township of your choice and once they have downloaded completely, click on them again to enlarge and clarify them. They may be saved to your computer by right-clicking and selecting "Save Image As..."
---
Click here to go to our order form.
Click here to go to our product page.
Click here to return to our home page.