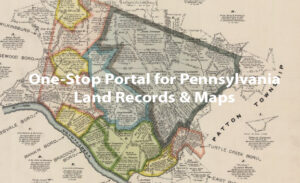 Our goal is to help you track your early ancestors who moved through Pennsylvania through their land tracts! To do that, we offer three resources: (1) county atlases in our Early Landowners of Pennsylvania series based on the Township Warrantee Maps  drafted at the Pennsylvania State Archives containing information about the earliest landowners; (2) pdf downloads of the entire set of state-wide Warrant Registers, Patent Register Indexes, and Tract Name Registers pertaining to the earliest landowners; and (3) free images of 19th-century maps and atlases containing names of residents to use in conjunction with county histories and censuses, most of which we took in person at the Library of Congress.  With our resources, you can:
Pin your families down to exact locations prior to the 1790 census
Reveal family relationships or clues to possible relationships since relatives usually congregated near one another
Trace the progression of sets of families and neighbors as they moved in groups
Identify migration trails of your families as they moved west across the colony and state of Pennsylvania
Locate family wills, church records, deeds and orphans court records by knowing where they lived
Plan a trip to the land of your ancestors, walk where they walked and feel your roots
Give flesh to your ancestors by being able to find real historical events, both exciting and mundane, in county histories where they lived
Uncover the history of modern land tracts
Our website is a one-stop portal for explaining and finding Pennsylvania land resources and a must for every serious researcher of the pioneers who passed through or stayed in Pennsylvania, as well as for 19-century residents.