State-Wide Resources
and
The Land Acquisition Process of
the Colony and State of Pennsylvania, 1682-today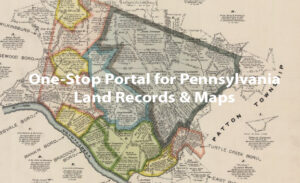 Land Transferred from Colonial or State Government to Private Individuals:
The normal process for obtaining land in Pennsylvania involved a 5-part process set up under the Crown of England: (1) the applicant submitted an application for a land tract; (2) the Pennsylvania Land Office issued a warrant, or order, for a survey; (3) a survey was conducted; (4) the loose survey was returned to the Land Office for issuing the final title or "patent"; (5) the patent was issued and a name given to the tract by the patentee (see the overview at the Pennsylvania State Archives).  It is estimated that approximately 70% of land within Pennsylvania was transferred from the colonial or state government to private owners using this process. Expand each of the four items below for more information on this process.  Download a printable handout of this process here. 
We have just published The Keystone: Essential Guide to Pennsylvania Historical County Records that brings online resources for all of the following topics together for each of the 67 counties into one 525-page book.  Included are links to each county's online Deed Books and indexes, online county history books, online 19th-century maps showing landowners, online registers (ledgers) for warrants & patents, online registers for military land grants, evolution of the counties and townships, etc.
However, in perhaps 30% of land transfers, different processes were used: 
Many early settlers settled on vacant land before paying for and receiving government authorization (a warrant), often because they were beyond government offices or because Pennsylvania had not acquired the territory yet through treaties with Indians.  Rather than receiving a "warrant to survey" ordering a surveyor to come and survey the land as in the normal process, they received an "order to accept" a survey conducted after their settlement.  In this case, the survey states it was conducted on a "on a warrant to accept" and the word "accept" is noted in the relevant Warrant Register. For more information on land obtained through treaties and the different Warrant Registers opened for each (East Side Application Register, West Side Application Register, New Purchase Register, and Last Purchase Register), expand the "Indian Treaties" section below.
Land was given to Revolutionary War soldiers either to compensate them for their depreciated pay ("Depreciation Land") or to entice them to stay in the Continental Line to the end of the war by the promise of free land ("Donation Land). For more information on these lands and the ledgers opened for these people, expand the "Depreciation and Donation Land" section below.
The boundary dispute between Pennsylvania and Virginia was eventually settled in 1780 when Pennsylvania agreed to accept claims made by settlers who purchased from Virginia. Expand the "Boundary Dispute: Virginia vs. Pennsylvania" section for more information.  Two other boundary disputes, one between Connecticut and Pennsylvania and the other one between Maryland and Pennsylvania, are also explained in this section.
We offer 4 major resources for locating the earliest private purchasers of land across Pennsylvania for sale: (1) a set of Warrant Registers for the entire state ($35); (2) a set of Patent Register Indexes ($35) for the entire state, (3) a set of  Tract Name Indexes from 1682-1959+ ($25); and (4) the New Purchase Applications Register ($15).  We also offer a comprehensive set of Warrant, Patent, and Tract Name Indexes ($80). See information about each of these registers in the information below.  Remember that all of these registers, or ledgers, predate the deed books at the county courthouses. They are official Pennsylvania documents that record the transactions of the very first individual landowners of the colony and the colony or state of Pennsylvania, those who received their land from the colony or state. 
Person-to-Person Sales:

Once a piece of land was transferred from Pennsylvania's government to a private individual, all future sales were recorded as deeds in the county that included the land at the time of the transaction.  Not all land passed through deeds–many times tracts were transferred through wills and private sales and these transactions that may be found in county repositories. See the section on deeds below for more information on county boundary changes and for searching online in Deed Books.
For an amazing map showing Indian purchases (shown in different colors), Indian names of rivers, historical events, Donation and Depreciation Lands, Susquehanna Company claims, Connecticut claims, old forts, etc., see "An Historical Map of Pennsylvania" by P.W. Sheafer (Philadelphia: Historical Society of Pennsylvania, 1875). Click on the image which will take you to the PennState University Libraries site, then expand it and zoom in.
Click on the + for each heading below to read expanded information about topics and see examples for some of them. Click on the – to close a topic and then + to open the next one.