Free Land Resources for Pennsylvania Researchers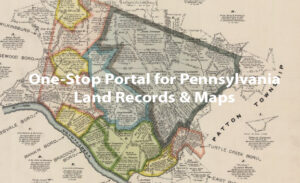 Ancestor Tracks is committed to becoming a one-stop resource for researchers of early Pennsylvania landowners. In addition to publishing our own books, we are posting images of 19th century maps and atlases that we personally took in the Library of Congress. Our goal is to post landowner maps, or links to other websites with landowner maps, for every county in the state.
While the physical maps are posting are in the public domain, the images we have taken of the maps belong to us and are not to be used commercially. We physically went to the Library of Congress, lugging our own amateur equipment, to photograph the maps and atlases.  Many of those maps were laminated or in pieces, and we did our best to mask as much glare out of the images as possible which often dictated climbing on ladders the staff so generously supplied or getting into uncomfortable positions.  Our images are not professional quality, but we made every effort during this labor of love to create digital images good enough for you to read the names of residents and landmarks. We have added links to digitized county histories that can be used with the maps we have posted.
For those researchers wishing to use them for personal use (including illustrating a family history you are working on), we give permission to use them as long as they are attributed to Ancestor Tracks.
To learn about the Pennsylvania Land Acquisition process that England set up to distribute colonial land (which basically continues today), as well as the boundary disputes (between Pennsylvania and Maryland, Pennsylvania and Virginia, and Pennsylvania and Connecticut) and land opened through treaties with Indians, see our Land Acquisition page.
For free resources (like the 19th-century maps showing residents mentioned above) that you can download and save to your computer, as well as to learn about products we publish, hover over a county of interest. If you see resources that interest you as you hover, click on the county to access them.  See the color key below the map for classification of resource.
Red counties denote books and chapters by Ancestor Tracks that can be downloaded, and also often contain free maps we have posted and links to county histories or Pennsylvania State Archives resources. Red shaded counties denote resources, links, and/or free maps we have posted. Green counties represent other land tract resources known to Ancestor Tracks but not affiliated with us.
(1) Click here for USGenWeb's Pennsylvania Digital Map Library, an outstanding source for land ownership in the 1800s.
(2) We have posted an excellent map published by the Commonwealth of Pennsylvania's Historical and Museum Commission showing the evolution of the counties starting in 1682 with the 3 original counties (Bucks, Chester and Philadelphia) to the creation of Lackawanna County in 1878. This map includes the Indian purchases. This map may appear to be illegible but it can be enlarged by clicking on it, and it may be printed or saved to your computer by right-clicking and selecting "Save Image As…"
(3) Harold Cramer maintains an incredibly valuable historical map website on which he has posted maps of Pennsylvania (and surrounding areas) from four centuries: 17th Century, 18th Century, 19th Century and 20th Century. Take the time to become acquainted with the many pages of his site. Great job, Harold!
(4) Other maps that show individuals on maps are:
(5) Also, here is an outstanding resource for locating the changing county lines throughout the U.S. which has been posted by Animap/The Gold Bug and its excellent SiteFinder, which lets you search for towns, cemeteries, courthouses, etc. This software is a wonderful tool for all researchers and the full version contains tools that allow you to place markers on maps and watch as the county boundaries change in every state. (Click on the years at the bottom of the map to see the boundaries year-by-year; it's slow-loading but worth it!)
(6) Another great resource, completely free, is the "Full-Text Collection" of over 1,000 books which have been scanned in their entirety and placed online by Historic Pittsburgh, a joint effort of the University of Pittsburgh and the Historical Society of Western Pennsylvania. Note the tabs across the top of the webpage to choose from texts, maps, etc.
(7) Be sure to check out the many resources available at these wonderful Pennsylvania sites:
(8) Access the entire Published Pennsylvania Archives series for free (all 10 series containing a total of 132 volumes) at http://www.fold3.com (formerly http://www.footnote.com). Either search for a name, date, place or topic in the series "Pennsylvania Archives" or click on "Browse" if you know the Series and Volume you want and then use the "Search within" box toward the top of the window. This site contains thousands of images of original Revolutionary and Civil War pension files through a partnership with the National Archives in Washington, D.C., but to access original records, there is a subscription fee. Again, there is NO FEE to access the complete published Pennsylvania Archives series!
(9) "Allegheny Ancestry & Genealogy Trails" contains a wealth of information on Pittsburgh, Allegheny County, and some surrounding areas. Excellent resources!