Sharon Cook MacInnes, Ph.D.
Sharon MacInnes retired after teaching English and U.S. History in Fairfax County (VA) Public Schools. Before that, she taught overseas in several countries. She earned her M.A. and Ph.D. from American University and honed her researching skills through those programs.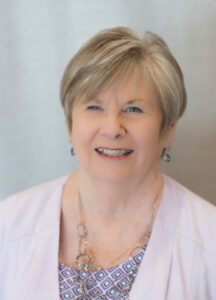 A dedicated genealogist since 1976, she gradually uncovered her ancestry which includes a young English separatist couple who came into Puritan New England in 1638 with the rest of their church; a 17-year-old British lad who sold himself into bondage for five years in 1722 to make the trek into Maryland Colony alone; a 14-year-old German girl who immigrated into the Colony of Pennsylvania with her family in 1738; an Irish middle-aged widower who sailed into Baltimore harbor with his brother and two children in 1765; and countless other fascinating ancestors who have stories to tell. In other words, she discovered that she has deep American roots and a passion for family history.
As a Foreign Service spouse prior to settling permanently in Virginia, she lived in Japan, Korea, England, Jordan, Israel, and southern Africa, teaching in several of those locations. Her life as a world wanderer sharpened her desire for roots and sparked a magnificent obsession—the one called genealogy. As she uncovered each generation, tracking them farther east across the American continent, she learned about the events which swirled around her ancestors. Her personal connections with the people of these periods made them come alive and helped her teaching become more interesting.
Several years ago, however, she was stymied. She had gone beyond the 1790 census and was flailing around, trying to pinpoint the exact location of her ancestral migration trails. She took advantage of where she lives, just outside of Washington, D.C., and visited the National Archives, DAR Library, and the Library of Congress countless times. And she was able to drive to county archives, courthouses, and historical societies throughout Pennsylvania and Maryland in her search for deeds, tax records, and wills.
It is on one of her trips that she discovered, to her surprise, that the Commonwealth of Pennsylvania had commissioned draftsmen to draw connected maps from the original deeds of the earliest purchasers of tracts in at least ⅓ of its counties. This treasure trove of maps is housed in the repository of the Pennsylvania State Archives in Harrisburg. In her conversations with other genealogists, it became apparent that these maps are not "user friendly"—names on the plats are not indexed and most researchers are not even aware that they exist for their counties. She decided to take on the challenge of indexing and publishing these Township Warrantee Maps, as well as designing coordinate grids to locate each tract and owner.
As an adjunct to the volumes concerning western Pennsylvania and due to her ancestors' land in this area, she identified the locations of the land tracts which were transferred from Virginia to Pennsylvania jurisdiction in 1779-1780 after the boundary dispute between the two states was settled.
Additionally, she formed a unique partnership with the Pennsylvania Historical and Museum Commission.  She purchased all of the Warrant Registers, Patent Register Indexes, and Tract Name Indexes and received permission to publish them. They are now offered by Ancestor Tracks as a downloadable set of  Warrant Registers, a second downloadable set of Patent Register Indexes, and a third downloadable set of Tract Name Indexes.
Lastly, she maintains her web site dedicated to finding 19th-century landowner maps, producing digitized images of them, and posting them as free, downloadable images. Hover over each county on the Pennsylvania map to see what is available to use with census records and published county histories.
"I think our ancestors had very different ties to their land than we have today, perhaps because there was almost no chance that they would ever own it in Europe unless they were the eldest son and inherited it," says MacInnes. "Land ownership made the difference between being a peasant or having the right to determine your own life. That's why they were willing to board ships for a three-month journey into the unknown. That's why so many of them were willing to actually sell themselves for several years of their lives as indentured servants and then, once they were free, to claw their way past anyone who got in their way. Remember, the people in these books were the first to trek into the wilderness and make their claims, often while conditions were life-or-death dangerous. I want genealogy to be more than just a bunch of names, lists showing where and when people were born and died. I hope that, by locating where and when these pioneers lived, researchers can place them into history and learn how they lived—their triumphs and tragedies."
Angus is a late-comer to genealogy. He started out humoring his bride a few years ago with her obsession over Pennsylvania land tracts and has become an indispensible partner in the goal of uncovering all early land tract maps of Pennsylvania. His people were originally loyalists, but we forgive him.