Westmoreland County: Early Landowners of Westmoreland County
2020 Revision Published by Ancestor Tracks
(scroll Down for free 1857 map showing residents)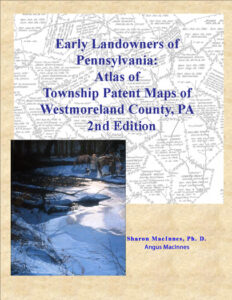 Ancestor Tracks is committed to becoming a one-stop resource for researchers of early Pennsylvania landowners. In addition to publishing our own books, we are posting images of 19th century maps and atlases that we personally took in the Library of Congress. Our goal is to post landowner maps, or links to other websites with landowner maps, for every county in the state.
Original Land Owners
On this page you will find a newly revised (2020) edition of our Westmoreland County atlas for sale, first published in 2007.  Although the Pennsylvania Land Office did not plat Westmoreland County surveys onto Township Warrantee Maps as they did for about 1/3 of the townships in the state, we are exceedingly fortunate that the county Tax Mapping Department located in the Westmoreland Co. Courthouse completed a similar project to map the patents (or final title) of the original tracts about 30 years ago. They show the first landowners of Westmoreland County — in other words, the people to whom the colony or state of Pennsylvania transferred ownership of each tract.
Westmoreland County was included in the area disputed between Virginia and Pennsylvania until 1780.  It was also part of the "New Purchase," land opened after a treaty with the Iroquois at Fort Stanwix in 1768.  To learn about the Pennsylvania Land Acquisition process that England set up to distribute colonial land (which basically continues today), as well as the boundary disputes (between Pennsylvania and Maryland, Pennsylvania and Virginia, and Pennsylvania and Connecticut), Revolutionary War Donation and Depreciation land, and land opened through treaties with Indians, see our Land Acquisition page.  
Once a tract was in the hands of a private individual, all subsequent sales were recorded in Westmoreland County Deed Books. These Deed Books (DB) and county Survey Books, as well as the patent maps, can be consulted at the Westmoreland County Court House in Greensburg.
The employees of Westmoreland Co. Tax Mapping Division produced one overall "Frontier Map 1783-1825" (see left image below) dividing the entire county into 353 segments.  They then "zoomed in" and created two sets of patent maps:
(1) a Township Patent Map for each township showing the segment of the 353 tract locater boxes located within that specific township (see the middle image below for Mt. Pleasant Township). Starting from the upper left of the image, it contains boxes numbered 241-331; to enlarge this image, you may need to right-click on it and "Open Image in New Tab" where it can be further enlarged); and then
(2) further zooming in, they drafted Detailed Tract Maps showing 4-8 original metes-and-bounds tracts superimposed over current road maps with some of each tract's identifying information (scroll further down to see sample Detailed Tract Map #243 in Mt. Pleasant Township under "Companion Detailed Tract Maps").  While they created the maps, they did not create a way to find an individual on the maps.
We purchased all of their unindexed maps from the Tax Mapping Division of Westmoreland County and received copyright permission to publish them.  Then we started this atlas by transcribing all of their information on the maps.  
We soon realized that the patent maps provided only partial information for each tract. Five pieces of data were fairly standard:  the patentee's name, the size of the tract, the warrant and patent dates, and the patent book and page number.  However, the patentee is the person who received the FINAL title, while the warrantee is the person who received the FIRST right to settle; these names do not appear on the maps. We estimate that the warrantee transferred his right to the patentee in as many as 40% of all cases, usually by selling it or through inheritance. 
We added missing warrantee names and other data and corrected errors on the patent maps by looking up each individual tract (about 4,000 of them!) in the relevant Patent Register index to find the name of the warrantee.  Then we added more information from the Westmoreland County Warrant Register (as well as the Warrant Registers of Westmoreland's parent counties Cumberland and Bedford).
NOTE: The set of 67 county Warrant Registers plus 3 pre-1733 ledgers called First Landowners of PA: Colonial and State Warrant Registers in the PA Archives, Harrisburg, 1682-ca 1940 ($35) can now be downloaded and saved to your computer. (Free images  are also posted on the Pennsylvania State Archives website where each page of each county's ledger is a separate pdf file).  
Next, we corrected erroneous information printed on both the overall Township Patent Map (and the index at the side of each map) as well as the Detailed Tract Maps. We also added references from the New Purchase Applications Register where applicable. Thus, you will notice many discrepancies between the information in each chapter and the information printed on the 353 Detailed Tract Maps. In all cases of discrepancies, we relied on the Pennsylvania State Patent Registers for patent dates and size of tracts, and Pennsylvania State Warrant Registers for warrant dates and Survey Book references as we wrote the atlas.  
Structure of the atlas: Each chapter in this atlas (as well as each individual chapter's separate download) covers one township as it currently exists and begins with the relevant Township Patent Map (see middle image below). Following the patent map, the actual chapter contains all of the information we were able to discern regarding each tract, as well as the number of the Detailed Tract Map(s) on which the tract appears.  The 353 detailed tract maps themselves are included in the cost of the atlas.  However, if you purchase single township downloads that show detailed tract map numbers, you may want to purchase this file at a nominal extra cost ($5.00, below).
To see if your ancestors appear in Atlas of Westmoreland County, check to two indexes of the 488-page atlas, Before your buy our Atlas of Washington County tracts, see if the name(s) you are looking for appear in index of the 567-page atlas. To see which individual township chapters they, click on "Index to Individual Westmoreland Co. Township Chapters by NAME" or to see the index by neighborhood, click on "Westmoreland County Index by TOWNSHIP." You may only need one township if your ancestors and their allied families are only listed in one, or you may need the entire book if your families span several townships.
You can order the
complete atlas

, or each of the

individual township chapters

, or the

353

Detailed Tract Maps

below:​
Atlas of Township Warrantees of Westmoreland County (488 pages containing all township chapters, extensive intro, footnotes, index. A second pdf is also included that contains 353 detailed tract maps that accompany the atlas; $45 pdf download)
PDF download of 353 Detailed Tract Maps (This file is included if you buy the Westmoreland County atlas above.  If, however, you purchase a township download and want to access the detailed tract maps it mentions, you will need this file. See explanation and images below; $8.00)
Allegheny Township (29 pages, 29 footnotes; $14.00)
Bell Township (27 pages, 16 footnotes; $14.00)
Cook Township (35 pages, 26 footnotes; $14.00)
Derry Township (61 pages, 90 footnotes; $18.00)
Donegal Township (45 pages, 53 footnotes; $16.00)
East Huntingdon Township (37 pages, 40 footnotes; $15.00)
Fairfield Township (42 pages, 30 footnotes; $15.00)
Franklin Township (see  Murraysville below)
Hempfield Township (73 pages, 110 footnotes; ($18.00)
Ligonier Township (57 pages, 54 footnotes; $17.00)
Lower Burrell, City of (23 pages, 12 footnotes; $14.00)
Loyalhanna Township (32 pages, 28 footnotes; $14.00)
Mt. Pleasant Township (includes most of Sewickley Manor; 50 pages, 71 footnotes; $18.00)
Murraysville Municipality (formerly Franklin Township; 35 pages, 40 footnotes; $15.00)
North Huntingdon Township (38 pages, 58 footnotes; $14.00)
Penn Township (includes Denmark Manor; 40 pages, 63 footnotes; $16.00)
Rostraver Township (34 pages, 46 footnotes; $15.00)
Salem Township (42 pages, 52 footnotes; $16.00)
Sewickley Township (33 pages, 29 footnotes; $14.00)
South Huntingdon Township (44 pages, 54 footnotes; $16.00)
St. Clair Township (28 pages, 23 footnotes; $14.00)
Unity Township (with some of Sewickley Manor; 57 pages, 75 footnotes; $18.00)
Upper Burrell Township (22 pages, 6 footnotes; $12.00)
Washington Township (32 pages 16 footnotes; $14.00)
The Detailed Tract Maps produced by Westmoreland County and purchased by us are truly a unique tool for researchers of Westmoreland Co. settlers. These 353 detailed maps show the original tracts superimposed over modern maps. Consequently, you can locate precisely where your ancestor's land was and see the roads and lots within it today. For example, my ancestor, Daniel Koch, who is on the 1790 census of Allen Township, Northampton County and moved here between 1791 and 1792, is shown in the upper left portion of Detailed Tract Map #243 below (I added the black boundary lines for clarity; click to enlarge).
Note that separate surveys often were recorded in two places, the state Land Office and the county courthouse. The survey information on the Detailed Tract Maps is nearly always a reference to a county survey book located in the Westmoreland Co. Courthouse (those starting with a number). However, we were almost always able to supply the Pennsylvania State Survey Book and page number (those starting with a letter) by looking up the warrant information in the Westmoreland County Warrant Register or the New Purchase Application Register.  Keep in mind that Westmoreland Co. originally encompassed far more territory than it does today, but this atlas includes only the boundaries of present Westmoreland County. Also note that after receiving land from the state or colony of Pennsylvania, all subsequent land sales and transfers were recorded in the county courthouse covering the area at the time.
Next, I located Daniel Koch's tract on MapQuest using the roads listed on the Detailed Tract Maps. Then I clicked on "Aerial Image" which gave me the image below.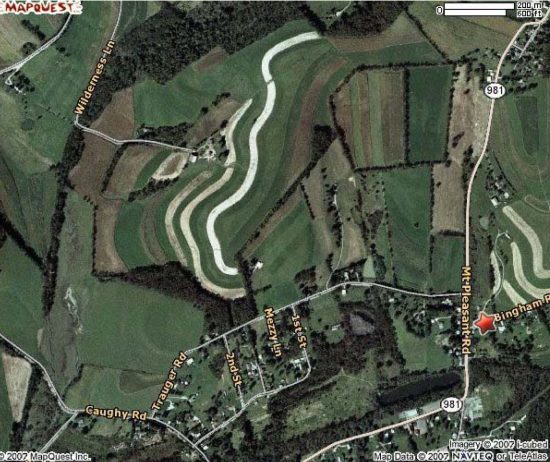 If you look carefully at the aerial map on MapQuest, you will see that there are actually straight lines of vegetation. It is amazing that many, if not most, of today's roads and straight lines of trees or shrubs actually follow the outlines of those old tracts, and I was able to take advantage of the straight rows of shrubs and trees and ploughed fields, plus the roads which define two sides of his property, to draw Daniel Koch's tract as follows: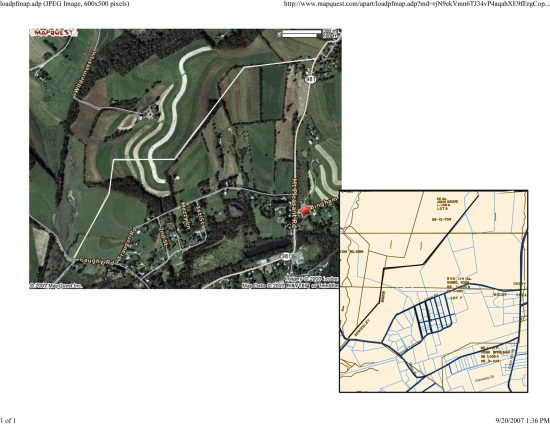 19th-Century Residents
As we have done for numerous Pennsylvania counties (hover over each county on the PA map), we are posting free, downloadable township images of  Map of Westmoreland Co. Pennsylvania from Actual Surveys by D. J. Lake & N. S. Ames which was published by Wm. J. Barker in 1857. Two different hand-colored copies of this map are located in the Library of Congress Geography and Map Division Washington, D.C., so you will see different coloration depending on which map we used. We hope that these 1857 landowner maps will be a useful tool when used as a companion to the 1850-1880 censuses and downloadable county histories: the 1882 History of the County of Westmoreland by George Dallas Albert, as well as the  3-volume History of Westmoreland County  (Volume 1; Volume 2; Volume 3) that was written in 1906 by John N. Boucher & John W. Jordan.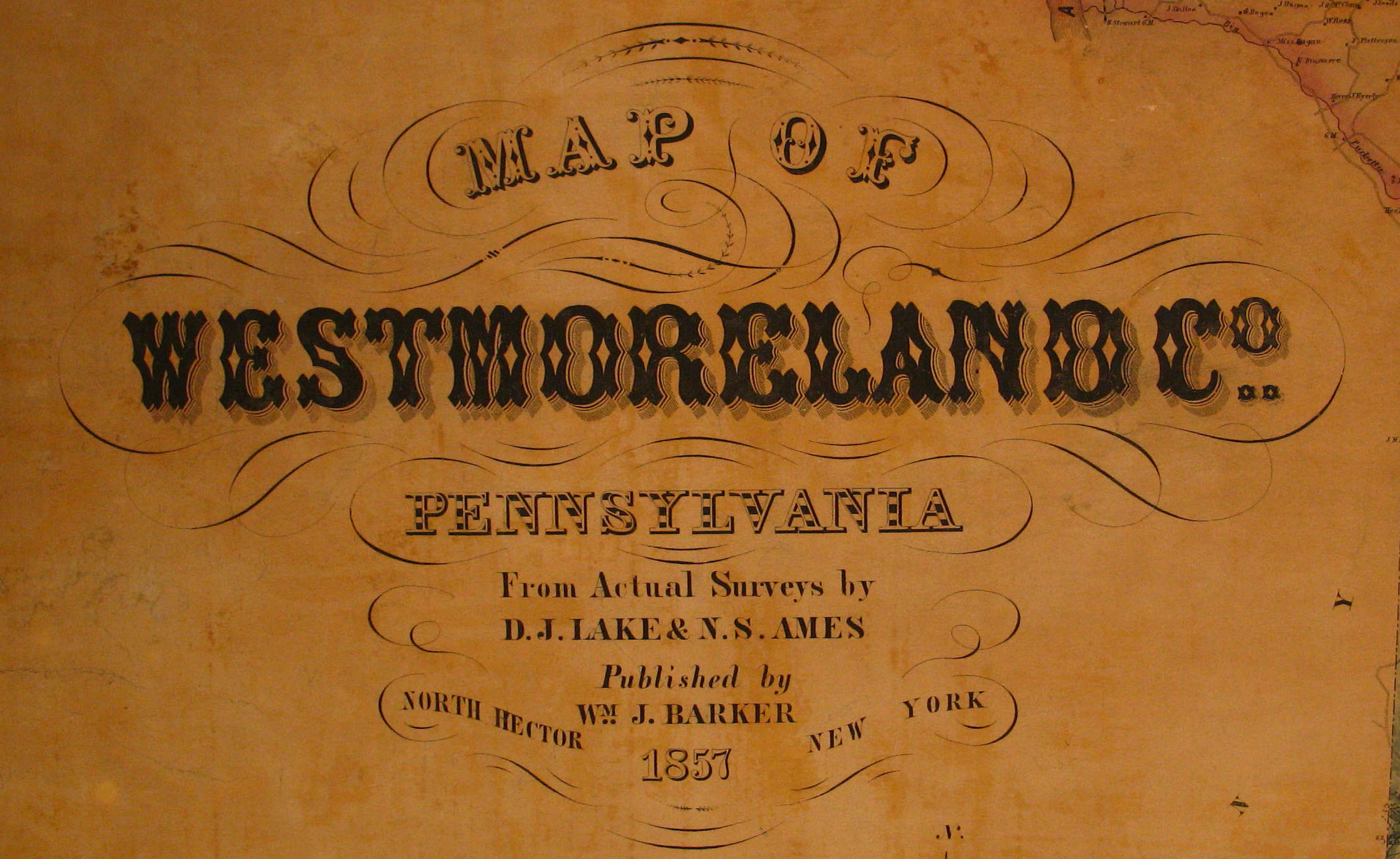 1857 Map
Click on the township of your choice below. Once the images are loaded, they can be enlarged by clicking on them. If an image doesn't enlarge, right-click on it and choose "Open Image in New Tab."  When it is opened in a new tab, you will be able to zoom in.
While the map in the Library of Congress, is in the public domain the images we have taken belong to us and are not to be used for commercial use. For those wishing to use them for personal use (including illustrating a family history you are working on), we give permission to use them, but we would appreciate attribution to Ancestor Tracks. It takes much time and effort to locate, process, edit, and post these and the many other county images we have posted, so we appreciate this courtesy.
Boroughs, Towns and Villages
In order to produce this work, it required us to work for extended periods of time in the Greensburg Courthouse and we are incredibly indebted to George and Nancy Romig for opening their home and hearts to us so that we could undertake the necessary research.  We also give sincere thanks to the staff in the office of the Recorder of Deeds in the Westmoreland County Courthouse.