Philadelphia Area Early Landowner Resources
Earliest Owners of Land in Philadelphia Area
Ancestor Tracks is committed to becoming a one-stop resource for researchers of early Pennsylvania landowners. In addition to publishing our own books, we are posting images of 19th century maps and atlases that we personally took in the Library of Congress. Our goal is to post landowner maps, or links to other websites with landowner maps, for every county in the state.  
Original Land Owners: Pennsylvania Land Office draftsmen began working on a project in 1907  to plat all of the earliest land tracts and their owners who received land from the colonial or state government onto current township maps. See our explanation of how land was transferred from the government to individual owners from the earliest days of settlement. 
Unfortunately, the Land Office never got around to mapping Philadelphia, Bucks, or Montgomery Counties before the project ended in the 1950s. The reason may be that so many of the earliest surveys for the First Purchasers involved errors (two warrantees claiming the same piece of land, multiple overlapping claims, unpatented or untitled tracts, etc.), making it very difficult to place the original surveys onto modern township maps. Thus we are unable to write an atlas based on their maps as we have done with several counties.
The only way to find the date, book and page of the original warrant, survey, and patent for your ancestor is to search for him or her in the correct alphabetical section and then chronologically through county Warrant Registers on the Pennsylvania State Archives website where each page of each county's ledger is a separate pdf file, or download and save to your computer the entire set of 67 county Warrant Registers plus 3 pre-1733 ledgers called First Landowners of PA: Colonial and State Warrant Registers in the PA Archives, Harrisburg, 1682-ca 1940 ($35).   Once you have found the information, you can access the free online surveys, and you can order copies of the original documents from the Pennsylvania State Archives in Harrisburg using their order form. 
If you cannot find an original landowner's name in the Warrant Registers, the next place to look is in Pennsylvania's index to Patent Registers ($35). Within an index covering the relevant years, the names are grouped alphabetically by the first letter of the patentee's surname, then grouped by volume number of Patent Book, and finally arranged chronologically by date of patent. Thus, you have to look through the entire alphabetical section (which may be as little as one page to as many as 50) to be sure you don't miss anyone.
Please note that these land transfers predate the deed books located in each county because they deal with the first transfer of land to private individuals from Pennsylvania's colonial or state government. Once the land passed into the hands of a private owner, any subsequent transfer of the land was recorded as a deed in the county courthouse as it existed at that time.  
Other Philadelphia Resources for Early Landowners
"Mapp of Ye Improved Part of Pennsylvania in America, Divided into Countyes, Townships and Lotts" by Thomas Holme is posted at the Lower Merion Historical Society. This amazing map, which can be enlarged, shows landowners, including a company of 17 families who were the first Welsh settlers in PA. Holme published his map ca 1687. The area covered is 2 miles long and one mile wide around Philadelphia. Several other early maps have also been posted on this site. Thanks, Lower Merion Historical Society!
The 1774 Philadelphia map showing first Philadelphia landowners by John Reed has been posted by the Library of Congress. And the University of Pennsylvania has posted much of the rest of Philadelphia County landowners as of Octoberr 1777 on their outstanding "Mapping West Philadelphia" site. You can turn on or off overlays showing the 1777 parcels, roads, rivers, and modern streets, and you can search by the property owner's name. This is a work-in-progress, so check back periodically for updates. Generally speaking, these are not the original landowners–but the "Year Acquired" gives the year in which the parcel was inherited or purchased by the owner. If the land was inherited, probate records can be accessed for the previous owner.
There are many repositories that have created an invaluable homes  containing a wealth of information for Philadelphia: 69 Philadelphia City Directories are on the Internet Archive; 1798 Federal Direct Tax for Philadelphia on Ancestry; 1847 census of African-Americans in Philadelphia by Quakers on Ancestry;  panoramas, maps, texts, and paintings in the Library of Congress.
19th-Century Residents of the Philadelphia Area
Montgomery Co. Resources:
The Lower Merion Library System has a wonderful historical atlas collection online, including the 1871 Hopkins Atlas of Montgomery Co. and the 1877 Scott Atlas of Montgomery Co., both of which show landowners.
New Jersey Resources: While researching in the Philadelphia area of Pennsylvania, remember to keep neighboring New Jersey in mind as many PA settlers had strong ties or relatives in New Jersey. An outstanding project, the New Jersey Early Land Records Project, is creating a database to make all of their land records searchable.
1850, 1857, and 1868 Atlases with Resident Names
To help identify the location of heads-of household in the 1850, 1860 and 1870 censuses, we have posted images from several maps on file at the Library of Congress: (1) "Maps of Bucks County, Pennsylvania, from Surveys" published in 1850 by W. E. Morris; (2) "Map of Bucks and Montgomery Counties and the Consolidated City of Philadelphia" published by Kuhn & Shrope in 1857; and "Barnes' Driving Map of Philadelphia and Surroundings," published in 1868 by R. L. Barnes. These maps of Philadelphia, Bucks, Montgomery, and Delaware Counties, PA, plus part of New Jersey, are located in the Geography and Map Reading Room of the Library of Congress. They document landowners in an area approximately 12 miles in diameter around Philadelphia. The images are very large and may take time to load.  
There are so many online resources for this area of Pennsylvania that we will only mention a few.  See the three FamilySearch wiki pages created for Philadelphia County, Bucks County, and Montgomery County.  Representative digitized, downloadable county histories are: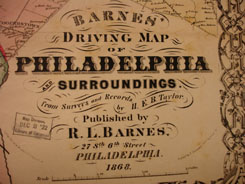 Click on the township of your choice below. Once the images are loaded, they can be enlarged by clicking on them. If an image doesn't enlarge, right-click on it and choose "Open Image in New Tab."  When it is opened in a new tab, you will be able to zoom in.
While the map in the Library of Congress, is in the public domain the images we have taken belong to us and are not to be used for commercial use. For those wishing to use them for personal use (including illustrating a family history you are working on), we give permission to use them, but we would appreciate attribution to Ancestor Tracks. It takes much time and effort to locate, process, edit, and post these and the many other county images we have posted, so we appreciate this courtesy.