Venango County Landowner Resources
Our goal at Ancestor Tracks is to publish maps and land ownership information allowing researchers to place more precisely the locations where our ancestors lived.
Original Land Owners
The state of Pennsylvania began platting the exact metes-and-bounds tracts of the earliest landowners, township-by-township, starting in 1907.  Fortunately for Venango County researchers, the Pennsylvania Land Office completed excellent Township Warrantee Maps of Venango County and the Pennsylvania State Archives has graciously posted them online. We are posting links to each of these warrantee maps below the images of the 1857 and 1865 atlases. 
To learn about the Pennsylvania Land Acquisition process that England set up to distribute colonial land (which basically continues today), as well as the boundary disputes (between Pennsylvania and Maryland, Pennsylvania and Virginia, and Pennsylvania and Connecticut), Revolutionary War Donation and Depreciation land, and land opened through treaties with Indians, see our Land Acquisition page.
Venango County was part of the "Last Purchase" of 1784.  The Penns did not sell land until they received it through Indian treaties, and thus the land which would become Venango County was not available for purchase until the land was acquired through the Treaty of 1784 after the Revolutionary War. The vast area of northwest Pennsylvania was thus opened up for settlement through this "Last Purchase." About 20 of today's counties were originally part of this land. At first the price was set relatively high, and few tracts sold for that amount. In fact, a letter addressed by Benjamin Franklin to the Supreme Executive Council on 23 Feb 1787 says, "We are convinced that it will be of advantage to the State to lower the price of land within the late Indian purchase; only eight warrants have been taken out for lands these six months passed." (Colonial Records, vol. xv., pg. 167). The price of the land was thus duly reduced, and it was again reduced in 1792 because sales were not increasing much. Finally, the lower price induced many large land purchasers to apply for huge tracts.
After the Revolutionary War, the western portion of the county was part of the Donation Lands so be sure to check for potential military service of these settlers. The Donation Lands program was designed to induce men to stay in service until the end of the war when they would be given land as a bonus for their service.  Distribution of the tracts was through a lottery system. Many men decided not to move to this wilderness and sold their warrants, but many others actually took up land here based on their Donation Certificates.
Venango County was created in 1800 from Allegheny and Lycoming Counties.  Going backward, the southern half of Allegheny County was originally part of Cumberland County (1750-1771), then Bedford County (1771-1778), and then part of  Westmoreland County (1788-1800) and part of Washington County (1781-1800). The northern half of Allegheny County was annexed to Northumberland County in 1785. Similarly, Lycoming  was carved from Northumberland County in 1795. Thus, all of these counties should be checked for deeds and wills, etc.

When Venango County was created in 1800, Clarion County was contained within it and did not split off and became its own county until 1839.
19th-Century Residents
As we have done for numerous Pennsylvania counties (hover over each county on the PA map), we are posting free, downloadable township images of two maps of Venango County, one published in 1857 and one published in 1865. These maps are physically located in the Map Room of the Library of Congress. We hope that they will be useful tools for locating your Venango County families when coupled with the 1850 – 1880 censuses  and published county histories: (1) Herbert Bell's 1890 History of Venango County, Pennsylvania: Its Past and Present; (2) McKnight's 1905 A Pioneer Outline History of Northwestern Pennsylvania, Embracing the Counties of Tioga, Potter, McKean, Warren, Crawford, Venango, Forest, Clarion, Elk, Jefferson, Cameron, Butler, Lawrence, and Mercer; and (3) Babcock's 2-volume Venango County, Pennsylvania: Her Pioneers and People published by H. H. Beers in 1919 (also downloadable from Google Books: Volume I and Volume II). 
Map of Venango County, Pennsylvania
Compiled from Official Surveys by R. Irwin, C.H. Heydrick, and C. Heydrick, 1857
Located in Library of Congress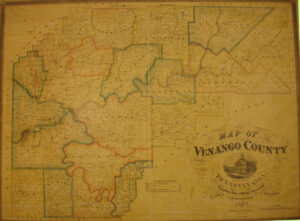 Click on the township of your choice below. Once the images are loaded, they can be enlarged by clicking on them. If an image doesn't enlarge, right-click on it and choose "Open Image in New Tab."  When it is opened in a new tab, you will be able to zoom in. You can also save the images.
While the map in the Library of Congress, is in the public domain the images we have taken belong to us and are not to be used for commercial use. For those wishing to use them for personal use (including illustrating a family history you are working on), we give permission to use them, but we would appreciate attribution to Ancestor Tracks. It takes much time and effort to locate, process, edit, and post these and the many other county images we have posted, so we appreciate this courtesy. 

We are also publishing images from Hunt's Improved Map of Venango County Oil Regions which was published by John P. Hunt in 1865.
Another version of this map that can be zoomed in in the David Rumsey Map Collection.
As mentioned above, Pennsylvania Land Office completed excellent Township Warrantee Maps of Venango County and the Pennsylvania State Archives has graciously posted them online.  Unfortunately, they are not indexed.
The draftsmen found the date, book and page of the original warrant, survey, and patent by searching through the Warrant Registers. They searched each county and parent county, then each alphabetical section chronologically, in the set of 67 county Warrant Registers plus 3 pre-1733 ledgers called First Landowners of PA: Colonial and State Warrant Registers in the PA Archives, Harrisburg, 1682-ca 1940 ($35) saved to their computers. (Free images  are also posted on the Pennsylvania State Archives website where each page of each county's ledger is a separate pdf file).   Once they found the Survey Book reference and size of the tract in a Warrant Register, they platted each tract's metes-and-bounds boundaries using the surveys copied into survey books which have now been posted online (using the Survey Book and page number on the Township Warrantee Map or county Warrant Register, you can download or print both the front and reverse side of the images). You can also order copies of the original warrant, survey, and patent from the Pennsylvania State Archives using their order form. 
Please note that these land transfers predate the deed books located in each county because they deal with the first transfer of land to private individuals from Pennsylvania's colonial or state government.  Once the land passed into the hands of a private owner, any subsequent transfer of the land was recorded as deeds in the county courthouse as it existed at that time.
Venango County Township Warrantee Maps
(first individuals to receive their land from the colonial or state government of Pennsylvania)